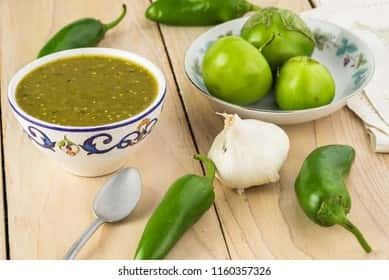 Raw Salsa Verde
Raw Salsa Verde
Raw ingredients speak for themselves in this purist salsa verde. It's all about the green apple acidity of ripe tomatillo, the heat of untreated chiles, and the garlicky sting right up front.
The following recipe makes about 1 cup.
1 garlic clove, roughly chopped
1 teaspoon kosher salt
2 serrano chiles, steamed and roughly chopped
1/2 medium white onion, minced
3 to 4 medium tomatillos (about 5 ounces total), husked, rinsed, patted dry, and diced
1 teaspoon of honey
40 cilantro leaves (from about 10 sprigs), roughly chopped
Equipment: Molcajete*
*If you don't have a molcajete, prep all the ingredients as instructed and add them, minus the cilantro, at once to the jar of a blender. Pulse to combine then stir in the chopped cilantro.
Place the garlic in the molcajete with the salt and crush to a paste using the tejolote of the molcajete. Add the chile and minced onion to the paste and crush to a coarse texture. Add the tomatillos and continue crushing with the tejolote until pulpy. Season with the honey and stir with a spoon. Add the chopped cilantro and stir to combine. transfer to a container and refrigerate until ready to use. The finished salsa is best eaten the day it is made; if you want to work ahead, don't add the cilantro to the salsa until the day you plan to serve it.
By: Alex Stupak and Jordan Rothman